In her funny and poignant book, A Year of Yes, Shonda Rhimes reveals how saying yes changed her life. It's fascinating how one simple three letter word can create opportunities, promote courage, and push us out of our comfort zone.
But what if saying yes adds to your overwhelm? What if, as you inch out into the world again, the thought of saying yes no longer fits with your core values?
Up to this point, the idea of saying no might have filled you with anxiety. However, saying no is far more powerful than you might think. Being negative and saying no are two different energies. One is a drain on your time and energy, whereas the other can promote positive mental health and valuable space.
When you actively try to create a happy balance between your work and home life, you need to look closely at setting boundaries. Saying no can make all the difference.
Why are boundaries so important?
While advancements in technology have given us a wonderful sense of freedom and opened up excellent opportunities and collaborations, it also means we are available 24/7.
How many times have you answered an email at 10 pm? Has your weekend or holiday ever been interrupted by an urgent call? Do you make yourself available at the drop of a hat?
Setting clear boundaries for your work life allows you to enjoy your home life without fear of compromise. It also increases your productivity and helps you to work smarter.
"It is necessary, and even vital, to set standards for your life and the people you allow in it." ~ Mandy Hale.
As a woman in business, you understand the hard work, time, dedication, and sacrifices needed to succeed. But if someone takes advantage of your kindness, it can create animosity, excess stress, and upset.
It's worth remembering that you can choose to say no and assert your boundaries to either avoid these situations or recover from them.

Where to begin
Suppose you've never set boundaries before; you may be unsure of where to start. Here are the Women's Business Networking members' favourite ways to create clear lines between your business and home life.
Time management – decide from the start if you will have specific 'office hours' even if working from home. Will you only respond to emails between 9 am – 5 pm? What about taking phone calls? Set a limit on the times you are available and stick to them. Add these times to your website or social media platforms. Use an out-of-office email facility or hire a VA who can answer on your behalf.
Stop for a second – in this digital age, it's far too easy to react immediately when presented with a situation. That reaction might be in response to a comment on your business page, a LinkedIn message, or something else. In the same way you set office hours, be sure to set yourself reaction limits. Learn to stop and pause.
Stopping for a second gives you time to process what's going on and allows you the space to think through the scenario. We talked about saying no earlier, and this is how you begin to learn how to integrate 'no' into your daily life. Stop, breathe, think, then say yes or no but from a grounded footing.
Priorities – public speaker Brian Tracy suggests using four to-do lists to help prioritise your business goals. The first is your master list, where you include everything you can think of that applies to your business. The second is a monthly list, which includes items for the month ahead. The third is a weekly list, where you plan your entire week. Finally, is a daily to-do list. Understanding your workload (what's on your to-do lists) will help you set your boundaries using a priority list system.
Be more organised – when you join an online networking session with the Women's Business Networking, you will find a clear structure. The sessions are one and a half hours long, some of them include a guest speaker, and all of them include time to introduce yourself and your business. I host the sessions this way so that every attendee understands the boundaries of online networking.
It would be far too easy to stay online for two or three hours chatting with the incredible ladies who attend each month, but we all have businesses to run!
If you run online services, it's worth putting together a structure for every call or session to help you stay more organised and respect your working boundaries.
Communication is key when learning to say no and setting boundaries for a better work/life balance. If you are upfront and honest with your clients and colleagues from the start, they will respect your choices.
What next?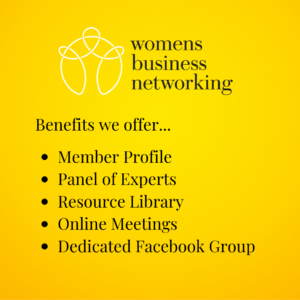 Joining a like-minded networking group that can support you as you build boundaries in your work and home life is a worthwhile investment.
Here are some of the benefits we offer at Women's Business Networking:
Member profile – Our website is the hub of the network where we share resources, event information, an informative blog, and an overview of our lovely members. You will have the opportunity to take advantage of this SEO (search engine optimised) promotion by adding your name, business details, and biography to the membership portal for visitors to read.
A panel of experts – You can't possibly know everything, and sometimes you don't have the time, resources, or energy to do the necessary research. Our members have exclusive access to a panel of experts who specialise in business processes, sales and marketing, SEO and visibility, and human resources. Tap into this incredible font of knowledge and get the help and advice you need when you need it.
Online Meetings – Geography, time restrictions, and workload can hinder our attempts to network effectively; that's why our virtual networking sessions are so popular. We have members and guests attend our meetings from all over the globe, making this network a great way to reach a much wider audience. As part of your membership, you receive two free online meetings per month.
Dedicated Facebook Group – Our dedicated Facebook group provides our members with a safe space to engage, ask questions, and meet other members. We understand that our online networking sessions are essential for meeting like-minded ladies and introducing your products or services to others. Our Facebook group is the perfect place to interact on the go with fellow members. Ask questions, share advice, tips, and experiences, and learn more about your fellow business owners.
The Women's Business Networking group can support you to create and maintain your boundaries within a like-minded business community.
"I have enjoyed the camaraderie in the group and seriously can say when you are having a bad week it makes you feel tons better after an hours meeting.
The advice and expertise in the room has helped me to adapt procedures to my business which has definitely made my life easier.
I would recommend new and established ladies in business to come along and give us a try , you wont be disappointed" Lorraine Willis, Simply Sutton Credit Control
Find out more about the support, online meetings, and guest speakers we have coming up at the Women's Business Networking group via our website.
 Alternatively, get in touch to discover how membership to Women's Business Networking can benefit you and your business.